There are a lot of good reasons to move to Uganda.  The avocados alone are about worth it, but that's not what chased us out of our cozy little Pennsylvania life.  We came here to work with an organization called Sole Hope.
The Problem
Eastern Uganda has a terrible problem with a little bug called a jigger.  They are a nasty parasite accidentally introduced by european colonialism that infest people's hands and feet.  They often infect children and it can keep them from being able to walk to school and thus have a cascading negative impact.  There is a lot of misinformation about causes and treatment, and a heavy social stigma associated with having jiggers.  They can really destroy a person's quality of life and lead to a lot of pain and serious health complications.  You can trust me on this, or you can click this very graphic and disturbing link.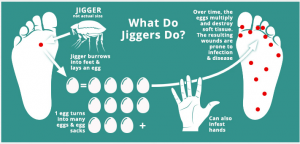 Having traveled a lot I feel I can say this: Jiggers aren't the the only problem in the world, and they probably aren't the worst.  They are unique, however, in that the solution is simple, lasting, and effective.  It's an area where education and some simple tools can drastically change lives for the better.
Sole Hope Steps In 
Sole hope is an organization doing something about Jiggers in Uganda.  Most of the supplies and funds are raised by a small army of advocates and volunteers in the US.  The work on the ground here is carried out by over thirty Ugandans and a handful of Americans.
Crafting Quality Shoes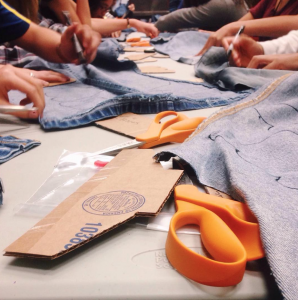 Jiggers live in dusty dirt and they infest people through direct contact.  If you aren't walking directly in that dust, you won't get Jiggers.  So, Sole Hope builds shoes.  The uppers are made from repurposed worn jeans.  The soles are made from motorcycle tires in Uganda.
People stateside get together, have a party, and cut up their own pants.  Usually it's their old jeans that they no longer wear.  Very rarely, it's the pants they wore to the party.  They ship the pants to Sole Hope's North Carolina Office.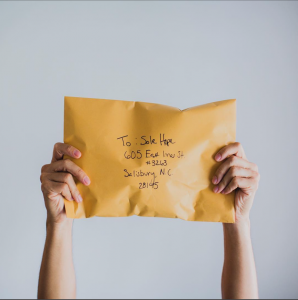 Once a year, thousands and thousands of sets of shoe uppers, plus loads of medical supplies are sent to Uganda on truck and a ship and a train.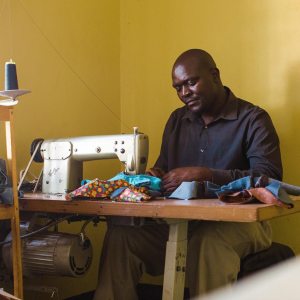 Once they get here, Sole Hope's team of tailors sew the uppers together.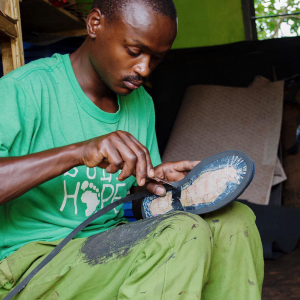 The cobblers form the shoes and add the soles.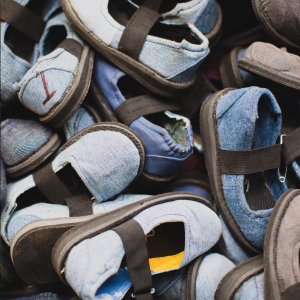 And boom.  A shoe is born.  It's sturdy, durable, and almost entirely made out of repurposed materials.
The Mobile Clinic
Every Thursday the team loads up the vehicles with shoes, medical supplies, and extra volunteers and heads out of town.  When school is in session, we generally target schools.  During holidays we go to communities that are suffering from Jiggers.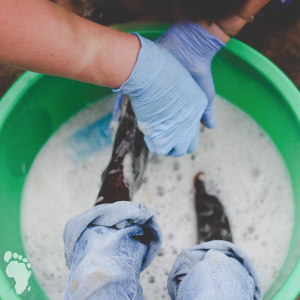 First, each kid's feet are thoroughly washed.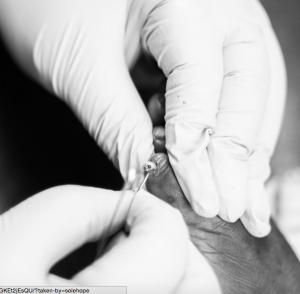 Then the jiggers are removed with razors and safety pins.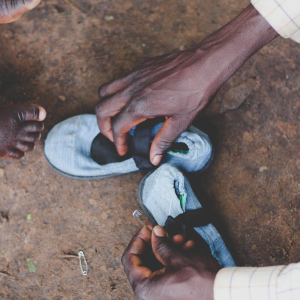 Each patient gets a pair of handmade, eco friendly shoes to help prevent future infestation.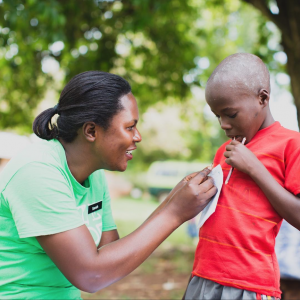 Each patient then gets one on one education about how to remain jigger free.  They go home with educational materials pinned to their shirt.  And a lollipop.
The Outreach House 
The worst cases come back to the Sole Hope Outreach house where they are treated over the course of one to three weeks until they are jigger free, healthy, and ready to head home armed with new knowledge and tools.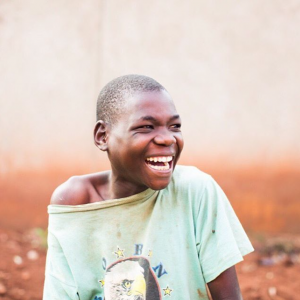 This is Waiswa.  He came to the Sole Hope outreach house around a year ago with over 1,600 jiggers.  He was treated for three weeks.  I saw him last week, healthy and jigger free.  He gave Winden the biggest hi5 of her little life.
The outreach house can treat up to 30 patients at a time.  It's run by a dedicated team of nurses, social workers, educators, and caretakers.
The Guest House
If you want to come hang out, volunteer at clinics, play with kids, etc… Sole Hope also has a guest house.  It's on the same compound as the shoe factory, is safe, beautiful, and full of delicious food.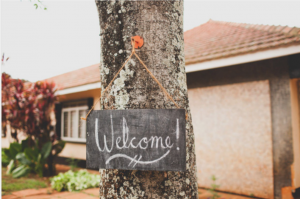 If you are looking for more information, or would like to cut up some of your pants, you can visit Sole Hope's Website and learn a lot.  Or you can talk more to me.